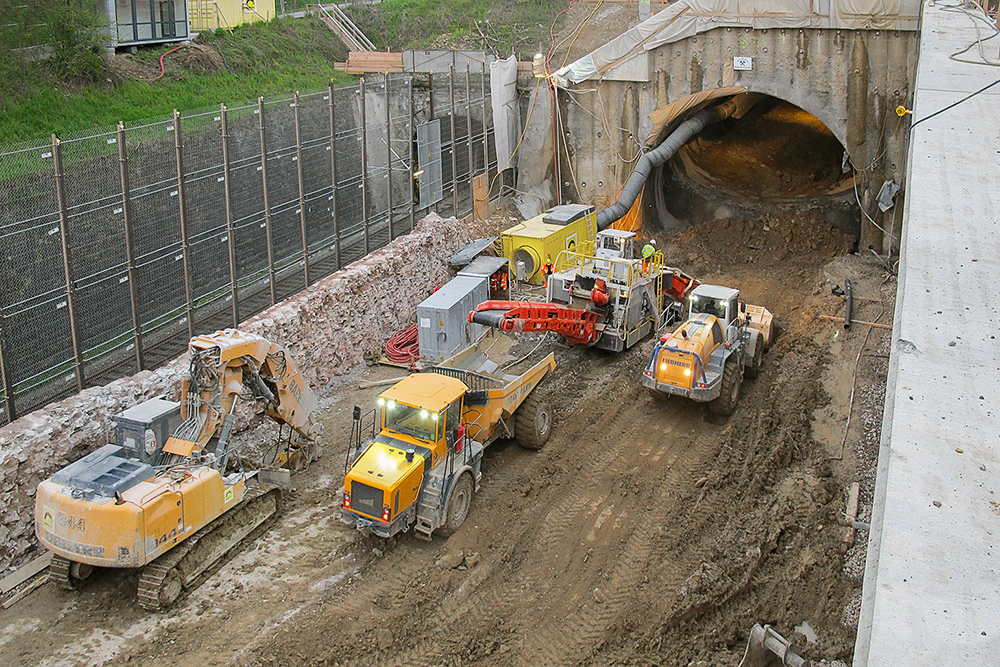 Construction of the Pforzheim Tunnel: DSI supplies Ground Support Products for the Karlsruhe-Muehlacker Train Section
Built in 1860, the double track Pforzheim Tunnel on the train section between Karlsruhe and Muehlacker no longer meets modern performance requirements and is in urgent need of repair. As a rehabilitation would have been too complex, a new, double track tunnel is now being built parallel to the existing tunnel. The new tunnel runs to the west of the existing structure at a maximum distance of 26m. The old tunnel will be shut down and backfilled once the new structure has been completed.

With a track distance of 4m instead of the previous 3.64m, the new, 909m long tube fulfills current safety regulations and has a modern escape and rescue concept. Furthermore, the new tunnel will have an invert that prevents the ingress of ground water. The new tunnel has a maximum cover of 40m and an excavated cross section of 130m². Since the precut is hard to access from the Pforzheim side, the tunnel is being continuously excavated from the town of Ispringen.
The tunnel is being advanced in accordance with the New Austrian Tunneling Method (NATM). Due to the special geological requirements and due to the existing buildings near the tunnel, a road header is being used. Advancement is progressing with calotte driving followed by bench and invert excavation.
As the in-situ soil consists of shell limestone – i.e. unconsolidated soil – along the first 300m, an excavator is used for advancement in this area. In the other areas in which rock and bedrock prevail, the tunnel is excavated using a rotary cutter. During advancement, the tunnel is first stabilized using a shotcrete lining. Afterwards, a cast-in-place concrete lining is installed.
To stabilize excavation work, DSI Underground Austria supplied DSI Hollow Bar Anchors and Self-Drilling Spiles in addition to other products. The self-drilling ground support products are a sound and efficient alternative to time-consuming cased drilling installation methods and products. For the drainage work around the excavation, DSI also supplied the proven AT – 76-DR Drainage System.
Back
More Projects