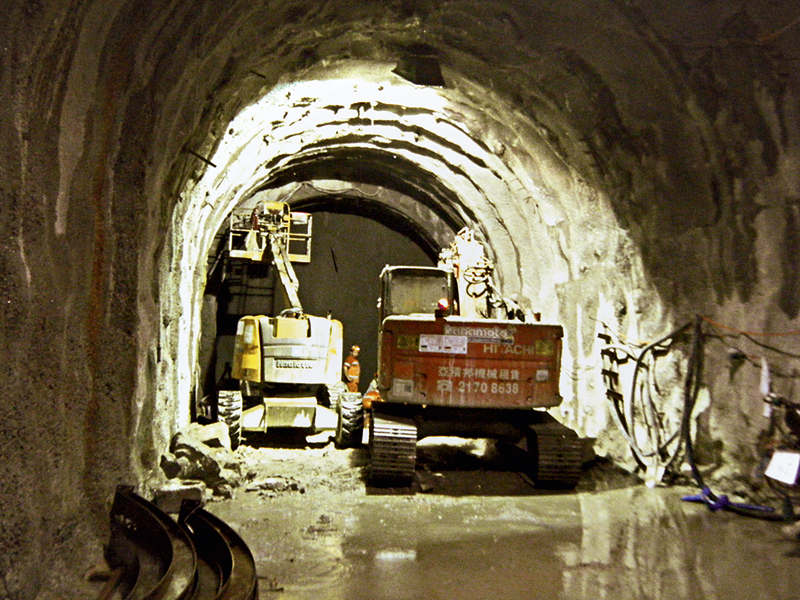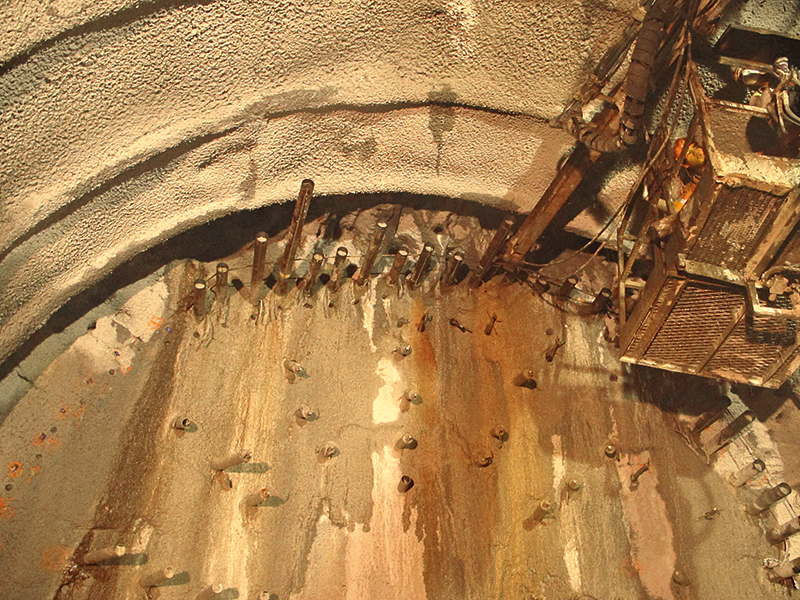 AT-Pipe Umbrella System Prevents Settlement: The MTR West Island Line
The MTR West Island Line (WIL) is a new, approximately 3km long subway line that will connect the Western District and northern Hong Kong Island. The new underground line will service Sai Ying Pun, Hong Kong University and Kennedy Town stations. Since the subsoil is principally rock, advancement is primarily accomplished using the drilling and blasting method and a tunnel boring machine (TBM).
In contract section 703, a section with two 760m long, single-track tunnels between Sheung Wang and Sai Ying Pun stations on north-western Hong Kong Island, an unexpectedly low rock overburden was encountered during construction. A detailed investigation revealed a zone extremely prone to settlements with decomposed granite and a 35m groundwater head above.
The general contractor decided to carry on advancement by ground treatment and subsequent mechanical excavation with partial blasting. In areas with low rock cover, pipe umbrellas were installed as reinforcement ahead of the tunnel face.
DSI Austria produced and supplied 500m of Type AT-76 GRP Pipe Umbrellas that were installed piece by piece using hydraulic, rotary-percussive drilling. The installation was carried out with conventional drill booms using the overburden drilling method.In addition, DSI supplied 4,000m of Type AT-114 Pipe Umbrellas which were installed in maximum lengths of 12m to increase the stability in the working area by transferring loads in the longitudinal direction. Simultaneously, the pipe umbrellas efficiently decreased excavation induced deformations.
In areas with a mixed ground profile, a single layer of pipe umbrellas that were installed with a spacing of 300mm was sufficient. A double layer of pipe umbrellas that were spaced at 200mm was installed near the tunnel crown, where strongly decomposed granite was encountered. Afterwards, a drainage system was installed above the tunnel roof in order to reduce water pressure within the grouted zone.
The pipe umbrellas, which can be accurately installed, are characterized by their simple and robust system components and allow for a fast, self-drilling installation.
The increased stability prevents settlements or subsidence of the buildings close to the jobsite.
DSI Austria also supplied a total of 3,000 OMEGA-BOLT® Expandable Friction Bolts in individual lengths of 3.60m and with a characteristic ultimate load of 240kN for ground support. Construction work on this technically challenging section was successfully completed in April 2012.
Back
More Projects