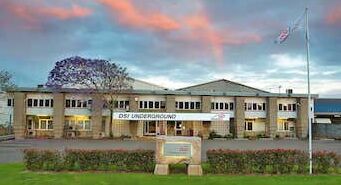 DSI Underground is Australia's largest manufacturer & supplier of specialist strata reinforcement & support products to the underground coal & metalliferous mining sectors.
DSI Underground is also a major exporter of these products to the Asia-Pacific Region. DSI Underground has successfully established its Mining Business Sector. Today, DSI Underground is global market leader in the development, production and supply of mining products and systems. Keeping in line with its strategy "Reinforcing Progress", DSI Underground has over 2,500 employees worldwide with operations across Europe, Africa, Asia-Pacific and the Americas.
In Australia, the DSI Underground head office and main manufacturing facility is in Newcastle, NSW. Another manufacturing facility is located in Perth to service the Western Australian market. To ensure efficient logistic & technical support, DSI Underground also has branch offices and warehouses in Queensland & Western Australia, close to the major mining regions in those states. DSI Underground has the most extensive product range available on the market. This allows customers to source most of their strata product requirements through one supplier. DSI Underground also assists with customer stock management to ensure product availability and minimize inventory costs. However, DSI Underground Australia does not only supply Australian customers. In 2010, DSI Underground Australia was awarded the prestigious "Exporter of the Year" Award at the 2010 Hunter and Central Coast Export Awards. The company exported mining products and systems worth more than 20 million Australian dollars in a single year, thus increasing previous export volumes by more than 400%. More than 35 years of profound experience in the mining industry and the related Know-how gained during this period are the foundation blocks on which DSI Underground Australia will continue to build and enhance its growth rate in the future. With a constant drive for innovation, significant investment is allocated to Research & Development to guarantee DSI Underground's remaining at the forefront of strata reinforcement technology. DSI Underground attaches great importance to R&D in order to continuously provide high quality products for its customers. About 100 employees around the world focus on R&D and engineering. With DSI Underground, mine operators have a partner that offers excellent customer service in addition to the largest and most complete product range for securing mines.
About Sandvik
Sandvik is a high-tech and global engineering group offering products and services that enhance customer productivity, profitability and safety. Sandvik holds world-leading positions in selected areas – tools and tooling systems for metal cutting; equipment and tools, service and technical solutions for the mining industry and rock excavation within the construction industry; products in advanced stainless steels and special alloys as well as products for industrial heating.
On July 2021 Sandvik has completed the acquisition of DSI Underground, the global leader in ground support and reinforcement products, systems and solutions for the underground mining and tunneling industries.